Marketers from Western Union, GrubHub, Cuisinart, and more share their productivity tips.
It's no secret that marketers today are stretched thin. Still, there are always those professionals who seem to juggle better, cross more items off of their to-do lists, and meet their deadlines faster. Here are 10 pieces of advice from executives on how marketers can do their jobs better.
1. Plan your day. The best way to tackle the work day is to take it on prepared. That's why Nidhi Gupta, director of global marketing for money transfer organization Western Union, encourages marketers to plan their work day the day before.
Steven Tristan Young, VP of growth marketing for food delivery service GrubHub, also recommends using the 3MIT format—a technique in which he writes down the top three tasks he wants to focus on at the beginning of the day.
2. Manage your own time. Time is what people make of it, and Mary Rodgers, director of marketing communications for kitchen appliance manufacturer Cuisinart, refuses to let other people dictate how she allocates it.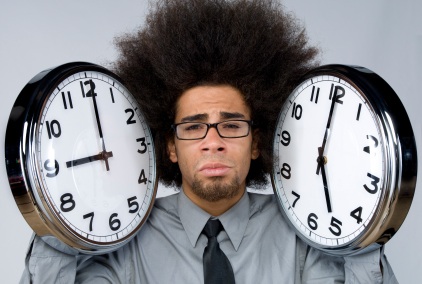 "Don't let other people manage your time, period," she says.
Rodgers recommends setting scheduling parameters but still staying flexible enough to take the occasional meeting from an up-and-coming innovator.

3. Identify the problems that you're trying to solve. When faced with an assignment, Kathy Kayse, VP of sales strategy and solutions for Yahoo's advertising sales division, asks herself  the following: "What problem are you trying to solve for?" Not only does this simple question provide her with context, she says, but it also helps her home in on the right solution. Indeed, thinking about the problem from a high level allows marketers to implement tactics that solve the bigger issue, Rodgers says—rather than complete meaningless work.

"A big mistake managers can make is focusing on just checking items off the to-do list," she says.
Once Young has thought through a problem, he says he likes to create an outline or "plan of attack" and tap into the "Zeigarnik Effect." According to Psychology Today, the Zeigarnik Effect is the human ability to recall uncompleted tasks better than completed ones, often producing a fixation with the unfinished task that isn't settled until the task is completed.
"Even if I haven't actually done any analysis, data gathering, or discussions," he says, "I've already started the 'hard mental work' and then applied a brain hack to force me to continue the project, despite any desire to delay [or] procrastinate."
4. Tackle the hardest problem first. Instead of leaving the hardest task for the end of the day, Rodgers suggests completing it first thing in the morning—when marketers still have high energy and a full day ahead of them.
"Do not leave it until the last moment as your work will suffer and so will you," she says. "A lot of people claim they can work better under pressure, but in my opinion, sloppiness can prevail."
When Young knows he has to "swallow the frog," he likes to use his unstructured morning time (like his time in the shower or his commute) to think about how he's going to address the problem. He also says he stays off of his phone and social media during this time to ensure that he doesn't get distracted.

5. Figure out how to best manage your inbox. The inbox is a time sucker. So, it's important for marketers to determine which management methods work best for them.
Young says he uses a tool called Sanebox to better filter the messages that matter most to him. He also color codes his emails based on whether they were sent from his bosses, his teammates, or his peers to help him prioritize. Meredith Wenz prefers to sporadically unplug. The director of marketing for pretzel chain Auntie Anne's blocks off time in her calendar during which she doesn't check her inbox at all.
"At times I find it important to disconnect and truly focus on my task," she says.

6. Have fewer meetings. Want to open up your calendar? Schedule fewer meetings. Gupta encourages marketers to swap formal gatherings for quick huddles and to reserve traditional meetings for critical discussions. She says she often uses chat apps like Viber, WeChat, Skype, and iMessage to communicate with multiple parties from her smartphone and avoid the formal sit-down.
But when she can't ditch her next 3:00, Gupta ensures that she and her colleagues are well prepared to help streamline the process.
"When there is genuine need for a meeting, structure it to make the best use of everyone's time," she says, "with pre-read [materials], agenda, expected outcomes, and clear responsibilities."
7. "Avoid death by PowerPoint." Presentations can be intimidating. But instead of devoting hours to perfecting their PowerPoint slides, Gupta advises marketers to focus more on the underlying thought process and analysis of the presentation—allowing them to devote more time to discussing the overarching ideas.

"Remember that decks are an aid to facilitate dialogue and not an end in themselves," she says.
8. Take breaks. Everyone hits mental roadblocks now and then. To get around them, Young practices "constructive procrastination"—a technique in which he works on smaller tasks until he's ready to take on his bigger projects again. He also says he rewards himself for working hard throughout the day, such as by checking social media, reading an article, or skimming his personal emails. And when he's really burnt out, he says he'll take time off to mentally recharge, such as by taking a nap, exercising, or paging through a leisurely read.

9. Delegate. According to Gupta, delegating is the best way to develop future leaders within an organization. Assigning tasks based on employees' strengths, interests, and areas of growth, she says, gives coworkers the chance to feel a sense of ownership, accountability, and accomplishment.

When assigning a task, Young uses an escalate-delegate-syndicate framework—a structure he says helps him decide if he needs to escalate the task to a senior leader, delegate it to an employee, or syndicate it to a wider team. He says he also categorizes projects into one of three domains: strategic projects, which require his attention; home runs, which are easy for him to complete but more challenging for someone else; and housekeeping or low-value projects, which he doesn't need to do.
"I try to think through—in every situation—which of the above classifications applies and then determine if a task needs to be on my 3MIT or if it can be delegated or ignored," he says. "Determining what I'm not going to do is easily the hardest part of prioritization."

10. Review your productivity at the end of the day. Instead of booking out of the office as soon as she powers down, Kayse reviews what she accomplished that day and outlines her priorities for the next (see step one).
"It is a rare day that I accomplish all I set out to achieve," she says, "but it keeps me focused on what is essential to a productive day."
To read the original post content click here
Respectfully,
Jimmie Wilks, MBA, MA, CAP
SCM Management Consultant & Online Marketing Guy
Email: Jimmie@JimmieWilks.Info
P.S., Discover How To Rapidly Build Your List, Attract An Eager Audience & Create Your Own Online Business Sensation…Click here!